GET HOURS OF EPIC WATER-FUN & RACING WITH THIS MEGA-FAST
RC SPEED BOAT!
Hit speeds of up to 45Km/h! Rocketshot™ RC SPEED BOAT puts all other boats to shame with its easy controls, lightning speeds, and smart anti-capsize design.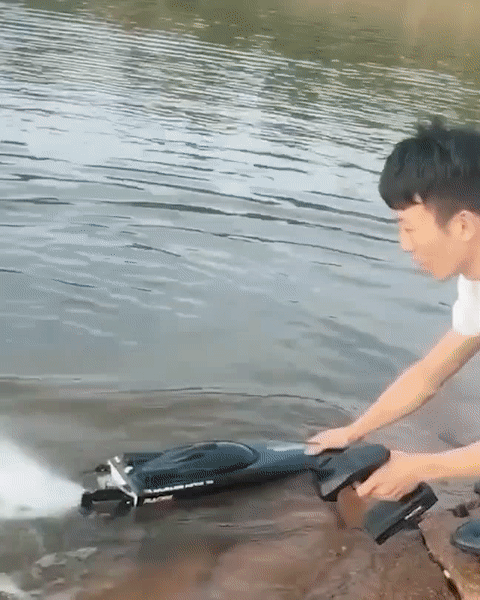 Whether you're a kid or an adult, this speed boat guarantees endless fun every time you're near the water!
Hours of outdoor thrills!
Smart Boat Controls
Rocketshot™ lets you easily maneuver sudden turns & sharp angles, Perfect for sudden obstacles or making fun shapes in the water!
Be Worry-Free From Capsizing
If accidents occur, it's anti- hull technology lets you flip it back to its upright position with a single button! You'll be back and racing in no time.
Self-Cooling Engine
Enjoy hours of playtime, it's single-prop powerful 370-size motor circulates water, in and out to cool down its engine.
Great Range Signal
With its 100 meters range signal, you can control it from the distance with zero interference from nearby boats owned by your friends & family.
Easily Powered
Boat's batteries are provided and need to be charged after use. While the remote control requires batteries.
"My six-year-old ran it in our pool and he loved it. It provides great fun and we all took turns playing with it. Sturdy, good-looking and fast. You can't go wrong with this one as a beginner or experienced racer."
Why choose Rocketshot™ RC SPEED BOAT?
Extremely fast & fun in the water
Easy controls let you maneuver angle & direction you want too!
Great range of signal
The self-cooling engine lets you play with it longer
Anti-Hull technology ensures no capsizing in the middle of the water!
PACKAGE INCLUDES
1 x Rocketshot™ RC SPEED BOAT
1 x controller
1 x battery
1 x USB charger
1 x stand